POEM HONORING WARD CHURCHILL
In no way does Kola Boof agree with writer-activist
Ward Churchill's comments about the 9-11 Victims,
she feels he was wrong for that...but the Egyptian-
Sudanese-American novelist was equally appalled
that the University of Colorado fired him, and as a
longtime fan of his work, she penned the
following tribute.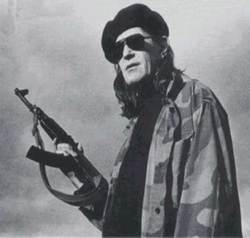 "INDIGENISM"
(White Man/Bare Chest)
A Poem In Honor of Ward Churchill
by Kola Boof
The God in Man is birth.
A wind, whistling
A trigger cocking/sweet steel
Walleye cold...
A thought--but not before blinking eyes
Not before recognition of gray haired loss
Not before the utter misery
of courage (that aching tooth)
pound for pound
...and the price exacted.
Walleye cold, White man:
"Hundreds of oil covered penguins surface
in South America" (just as you predicted).
Look there in the corner...
a naked brown seahorse girl/She sings: "tooth rhymes with truth"
She is both a respected murderous and a whore.
She is silly.
She who cooks the cactus stew and rode the horses bare-breasted
Naming you--
Hero, born Twin of the smoking gun.
Something good (naming you).
Walleye cold, White man.
Barenuckled, and like a penis, unblinking...
Though I know it was you that placed this
Tornado deep inside my thoughts--I will not stop
believing
that your truth is mine, thought first by me,
Indigenous.
I will be the heckler of those who dream you silent.
I will be the mother's hand full of rocks
--to Slap/Hard the Two-faced Martin Luther King-quoting White Bitch
and the African Church Rag (at our mercy like a Shadow though they called her
'Strong black woman')
I will cheerlead the Rebuke/Brown seahorse...voting naked.
But for peace...
Poison that you sucked out of a snake bite
I will be that Tenderness sucking and re-entering/Senate's legislation
Laughter that you thought had left your belly (by now)
I will be the cheerleader (forgiving)/
The hypocrites who fired you
I will be...America...in all her Good.
I will be Her
(rocking/blowing smoke to dead Indians)
I will be Her
(blue eyed and selfish...rocking)
Blowing smoke up Indian assholes on reservations.
I will be Her
(selfishly rocking)
I will be Her...unable to look the Hero called Twin
in the eye.
My palm freezing against his bare cold chest.
My sorrow wringing what is marrow, what is inate
from all the smelly fishheads--
I will have an "F" on my report card,
sleepwalking and blind as all power.
What was marrow/ what was inate--
I will be the killer/coming
Coming for to sing:
Blood of the tribe.
Obliterated and no more.
Womb of the Red mother.
Obliterated and no more.
Mixed
into nothingness/bastardized
Authenticity--obliterated
What was the truth (It mutated!)
What was the face (It's gone!)
What was the purpose (It left!)
But not you, Hero.
God in man is birth.
Man in God is but a dream.
Walleye cold, White man pray...
Indigenism/Don't leave.
SAYS KOLA BOOF
"It's so obvious that Ward Churchill is being persecuted by the University
of Colorado for his courage to say what he really thinks--and unfortunately,
for dramtic effect, he got carried away and made some very stupid comments
--but there's no denying that he's a very important artist and a great American."
"I don't know the man, but I've read two of his books and I admire his amazing
belief in JUSTICE and his devoted activism towards many human beings
who aren't white. I vehemently disagree with his comments about the 9-11
victims, he was wrong for that, but I do recognize persecution when I see it.