BOMB ASS Macaroni & Cheese
Kola Boof's "MACARONI & CHEESE"
You will never forget my macaroni & cheese.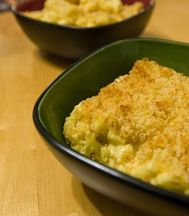 It's easy to make....but it's expensive and it's very
fattening.

KEY are two very unusual cheeses--Gruyere & Pecorino
Romano and ground mustard seed, plus Parmesean for
your bread crumbs.

THIS IS EASY and people will just LOVE you!!!!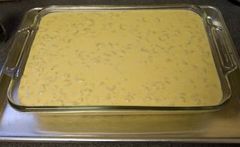 Special Topping: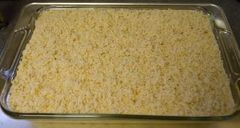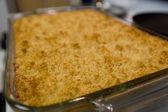 _____________________
(1) I get a large pot of water and boil 1 bag of Macaroni Noodles
with 1 teaspoon of Sea Salt. Boil it 12 minutes. Drain the macaroni
and return it to the pot.

*Coarse Sea Salt by "Baleine" is easy to find in Supermarket
or online. Good to cook with, but you use a LOT LESS than you
would with table salt.

(2) Get a smaller pan and melt 10 tablespoons of butter--stir that
into the Macaroni noodles, mixing well.

(3) In a Large bowl, mix together SIX cheeses= 1/2 Cup of each.
Mild Cheddar Cheese, Sharp Cheddar Cheese, Gruyere Cheese, Monterey Jack Cheese, Muenster Cheese and Pecorino Romano. That's 1/2 Cup of each to equal= 3 cups of cheese.

In a separate bowl for very last...shred 1/2 cup of Gruyere Cheese and
Pecorino Romano. This is called your "SPECIAL BOWL" final topping.

Your 7th cheese (Parmesean is for later w/bread crumbs)

Put cheeses to the side.
(4) Go turn your oven on to 375 degrees to start it eating up.

(5) Add 1 & Half cups of Half & Half to your macaroni...Add 2 beaten
eggs...Add a whole 8 ounce pack of cubed Velveeta Fake Cheese to
your macaroni, stirring all that in good...GET YOUR BOWL OF MIXED
6-CHEESES...out of that 3 cups of cheese, scoop out 2 cups of it
and Add the 6-cheese to your macaroni, mix that in good.

*Add 2 teaspoons Kosher Salt.
*Add 1 teaspoon freshly ground pepper
*Add some Cayenne pepper, but go light
*Add two tablespoons Ground Mustard Seed
*I always sprinkle in a little very finely chopped onion--how much up to you.
*I always put Celery Salt and a little finely chopped celery.

Stir all that up nice.

(6) YOUR BAKING DISH.....grease that bottom good. Sprinkle in a thin
bed of BREAD CRUMBS, smooth bread crumbs into a flat thin layer. Put a few "cuts" of butter in the bread crumbs. Lightly...and I do mean lightly,
put a little garlic salt or actual garlic in your bread crumbs...I usually put
a little garlic and onion both in the bread crumb bottom and cuts of
butter....THEN....you sprinkle Parmesean cheese over the bread Crumbs.

(7) Pour your pot of Macaroni mixture into the Baking Dish. Get that packed
in nicely. Now sprinkled that last 1 CUP of 6-Cheeses over the top of your
casserole. Put 2 tablespoons of butter on top of it. Put some bread crumbs
around the top--dusty like--dusting the bread crumbs around your top so
they'll get buttery cheesy...sprinkle more Parmesean cheese on the bread
crumbs.

Put that in the oven and bake it for about 35 to 40 minutes on 375; you
should expect to see it "bubbling hot" around the edges.

BUT LASTLY...10 minutes before it's done; add your Special Bowl of
1/2 Cup of Gruyere and Pecorino Romano cheeses. Put a lil butter.
Let that bake down into the bread crumbs at the end.